According to a recent study, there are nearly 52 million recreational fishermen in the United States
For most people, fishing is a way to forget about their problems and enjoy nature. While the going out to the lake or a pond is enjoyable, catching a fish can increase the fun you have.
One of the most common fish you will come across in the waters of the Midwest is the walleye. If you are looking for a way to increase your luck with walleye fishing, check out the helpful tips below.
Ditch the Real Bait
One of the biggest walleye fishing secrets used by novice and professional fishermen alike is using artificial bait.
Some people mistakenly think that the only way to catch a walleye is taking along a bucket of live bait. The reality is many fishermen have success using various artificial soft and hard baits.
Generally, lures that attract walleye will attract small perch as well. Don't worry though, even if these little fish hit your bait multiple times, you can continue fishing without running out of bait.
Walleye Fishing Can Be More Successful When Using Vertical Jigging
If you are fishing for walleye in a river or in high winds, using vertical jigging is a good idea.
This will require you to troll near the bottom of the body of water. By using a three-way swivel and a sinker, you can put your bait on the bottom where the walleye are hiding.
Once you get your bait in the right spot, start trolling upstream and across the current. This will allow you to make your bait more appealing to the walleye, thus increasing your chances of catching one of these fish.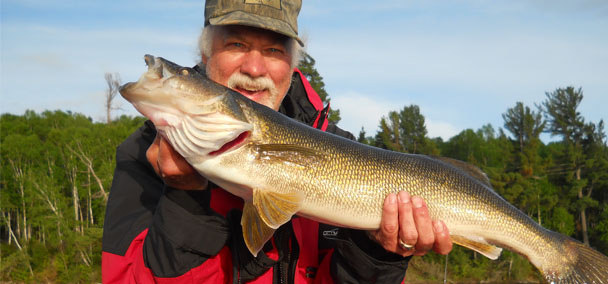 Wetting a Fly can be Effective
In certain conditions, fly fishing for walleyes can be extremely productive.
Generally, during the late winter or early spring, walleyes will be moving up the river. This means they will usually bite on fly bait if you present it to them.
Using yarn flies and dragging them on the bottom near the salmon reeds is a great idea. Typically, your best chances at catching a walleye this way is at dawn or just after dark.
Downsize Your Bait
Among the most prominent mistakes that inexperienced fishermen make when trying to catch walleye is using big bait.
While you will need to experiment with a few different baits and casting techniques, reducing the size of your jig is a good idea. When trying to mimic the appearance of mayfly larvae, keep your bait less than an inch long.
Looking for High-Quality Fishing Gear?
Any experienced fisherman knows that the quality of the gear used plays a huge role in walleye catching success. Updating and enhancing your walleye fishing tackle you have is a good investment.
Are you in the market for top-notch fishing equipment? If so, be sure to contact Yellow Bird Products for more information on what we can offer.