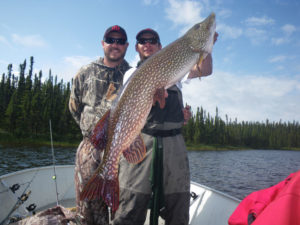 Please tell us about your experiences and successes with our products. Simply scroll to the bottom of the reviews and click on the Click here to submit your review button, fill out the form and send. If you would like to share any images or videos, please share them on our Facebook page or upload them separately using the form below.
Here are what some of our customers had to say:
My Father, Brother and I are avid pike fishermen all across Canada, we do love the fluorescent orange and copper color combination Doctor Spoons and the weedless series is actually "weedless" unlike some other spoons.
Currently, we use over a dozen Doctor Spoons of varying sizes and colors while pike fishing.
In my opinion the Papa Doc, and Weedless Series are the best out there, beating out Williams Warbler, Daredevil, and Len Thompson.
Thanks Yellow Bird

Jessie Zortman
August 22, 2018
Our Most Successful Pike Fishing Trip
Rick,
We had by far our most successful pike fishing trip to Lac Seul. This was our 13th year. We caught 712 pike including several over 40 and a ton of them between 35 and 39. With the late ice out the pike were in the shallow bays and they were very aggressive. I am attaching a picture of our biggest pike that Adam caught along with a really nice small mouth 18.25 inches. We caught 10 small mouth on the Doctor Spoons.
The best Doctor Spoon this year was the Lazer Glow with the green stripe. I did really well with the pearl Dr. Spoon and as usual the gold/silver did well. Adam had some pretty good success with KB Hologram spoons, too. The only disappointment was that the Kevorkian started off good, but the paint all came off after a few uses. We also notices the the spoons with the big letters DOCTOR SPOON performed better than those with the small letters. The small letter spoons come to the surface, whereas the big letters stay down much better. We did not use the Kandlefish lures much as the pike were too shallow for using them. I think when the pike move out to deeper water these will be killers.
Attached are 2 pictures of Adam with big fish.
Thanks.
Steve Chick
Administrator Answer
Thank you for your feedback Steve!
A nice stringer of Pike in South Dakota, caught on a #265 nickel Doctor Spoon
Thanks for the great service - all the spoons came through in good shape. Just in time for the weekend!
Enclosed are a couple of pictures of my girlfriend Donna. Donna is from Iowa and up until this year had not caught anything bigger than a small bullhead.
On April 27th we fished one of the Glacial lakes here in eastern South Dakota. Donna was using a #265 nickel "Doctor Spoon" casting off a rock from shore and caught a nice stringer of pike. The next day on the 28th she really hit the her stride and caught four nice pike ranging in size from 8 to 3 pounds. She caught every fish on the same #265 nickel "Doctor Spoon". I was casting 20 feet from her and threw everything I had in my tackle box and caught one small pike. Go figure. If you could use these pic's on your website, go ahead.
Again, thank you for the great Service.
Mark & Donna
Administrator Answer
Thank you for your kind words. Happy Fishing!