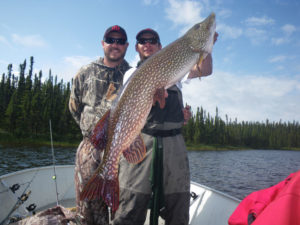 Please tell us about your experiences and successes with our products. Simply scroll to the bottom of the reviews and click on the Click here to submit your review button, fill out the form and send. If you would like to share any images or videos, please share them on our Facebook page or upload them separately using the form below.
Here are what some of our customers had to say:
Average rating:
25 reviews
May 21, 2017
Cammo Commander strikes again!
Caught this 3.54 lb Largemouth bass. I also landed an 18" Largemouth bass with the same lure last month when I went fishing for the first time this year. Looking forward to seeing just how big of a catch I can report back with this summer. Thanks YB! - Pleasant Lake, Wisconsin
Feb 27, 2017
A staple for pike in the north has always been the hammered orange/copper Doctor Spoon from Yellow Bird Fishing. I have zero problems promoting a product that I actually use and I use these a lot!Walleye seem to like them too. :)
Feb 18, 2017
I just wanted to reach out and thank you for your quality product! I found you guys at the Schaumburg show a couple weeks back and really liked the lures you had on display. I bought 4 or 5 and was able to use one for the first time today. I took my son to The Fox and a local bass pond where I never had to switch lures all day. Why? Because I knocked the snot out of some bass at the 4 different spots we fished today (IN FEB). I can't call it a fluke because it worked in the river AND in a pond in the same day. Anyways, the SP885 Minnow Bait rocked it for me! Can't wait to try the others out! Thanks again! If you have a product mailing list, I'd love to join.
Oct 23, 2016
Best of Both Worlds
I purchased two Prescott Strip-on Rigs to fish Northern Pike on a small (but deep) lake in northern Minnesota. It was getting later in the fall and the fish had been ignoring the artificial lures I trolled in front of them. I started out using the chartreuse strip-on and became discouraged after an hour with no results. As often is the case, changing colors might do the trick so I switched to the orange spotted blade and the pike went crazy!What a great product! The scent of a minnow behind a flashy blade combined with the "set the hook instantly" position of the treble hook make this product an artificial/live bait "Best of Both Worlds".
Aug 31, 2016
I have been to Canada twice now for some pretty spectacular pike fishing and both times Doctor Spoons came through big time. My first trip back in 2004 I caught a 41.5" master angler pike on one so we stocked up in preparation for a trip this fall. Attached is a picture of my 44.5" pike that I caught on the 4.5" UV red doctor spoon tipped with a white Mister Twister curly tail. I also caught a 41" pike on it as well on the same trip. Thanks for such a great product! The ability to easily control depth with such a big spoon was key to being able to fish above the abundant fall weed beds.
Aug 13, 2016
You are AWESOME.
I was going to Canada to go trout fishing, and I needed a couple of Thin Doctors. I placed my order 8 days (including a weekend) before I was leaving and was worried I would not get them on time. They came in two days! They came so fast I could not figure out what was in the box on my porch when I saw it. Not only was the shipping awesomely fast. You had the thin Doctors I had wasted a lot of time looking for. What a great experience! Thanks for doing the one thing most businesses fail to do, take care of their customers. As I said, you are awesome!
Jun 17, 2016
We're so happy with these boards!!!! We have been able to pull a 350 ft. cooper with a 10" flasher and meat rig behind them with no noticeable pull back. The picture of the boards is pulling a 100 with a spoon 150 with a spoon on medium boards and a 250 with a flasher and fly and a 350 with a 10" flasher meat rig on large baits. Unbelievable!
Jun 5, 2016
42in caught on gold dr spoon...Sesaganaga lodge, northern Ontario. June 5th... caught a 38, 41 and this 42 same day all on the gold dr.
Jun 3, 2016
Rick, We just returned from the Canadian side of Rainy Lake. Five of us caught around 750 Pike total. The lure of choice was the 1 3/16 Doctor Spoons. The largest pike was 41" and 28 lbs. I used some Ultra-Violet Doctor Spoons and I must say the finish on these is super.
May 26, 2016
What fun we had fishing yesterday! I absolutely love the boards! We ended the day with a 3 man limit. The other two anglers on board now want the Yellow Bird Boards!
New Pro Staff member Dan Jordon, Lake Michigan, comments on using Yellow Bird's planer boards for the first time. Thanks Dan
Mar 11, 2016
I love the original Doctor Spoon and the original Prescott. Some of my very first baits as a kid and still my most loved ones. I retired a 20 plus year old spoon this past year because of the memories, it sits on my dresser to look at every day now.
Jan 21, 2016
keep up the good work the new finish on the Dr spoons is great don't have to polish them any more
Nov 10, 2015
I've fished a lot this year and some of my biggest catches have been on Yellow Bird's Hard-Baits.I won a club tournament this year and #3 of my biggest catches came from using Yellow Bird's Blue Steel Minnow bait (mg572).Thanks to the "Bird" for exposing me to Yellow Bird's realistic line of Hard-Bait lures.
Oct 30, 2015
This is 11 yr old Logan . He caught this monster pike in Canada on your "Big doctor" blue/silver. We caught many others, plus lots of lakers on your spoons. I think it's pretty cool that a little boy would want to be a spoon for Halloween . You have a customer for life I think. P.s. At the top of the Christmas list is a big doctor blue/silver. He lost his to another big pike. Awesome isn't it.
What a great catch Logan! Look us up when you get older we can use another Yellow Bird Professional Angler representing our Doctor Spoon line of lures.

"The Bird"
Jun 29, 2015
The early ice-out and warm weather moved the pike out of the shallows early this year and that combined with a strong cold front just before our arrival made for a more challenging trip.We eventually found the pike on the points and caught 225 in 3.5 days of fishing.The best Dr. Spoon this year was the Blue Dolphin.Pike shown is 39.5" and after a little TLC was returned safely back to the lake.In our opinion, Yellow Bird's Doctor Spoons continue to be the best lure for catching pike.Best Wishes, Steve Chick
Jun 1, 2015
Never seen anything like this!
Just wanted to send you a few pics to show you how good the Doctor spoons really work. This is a picture of about a 34-35 inch northern with a 16- 18 in northern sticking out of his throat yet he still attacked the Doctor Spoon. I've never seen anything like this in all the years that I've been fishing. Amazing – here are the photos to prove it.
Jul 31, 2014
Papa Doc strikes again!
This time my wife Anne brought her luck to the boat for an hour. After 30 minutes this thick 44-incher whacked the All-Copper Papa Doc & 5" black pork rind that I was casting over a nice weed bed. I'd switched to a 7/0 hook & rind, because the action seemed better. A friend of mine is tying tinsel on some 7/0s & I'll let you know how that works. Both this & the prior fish were caught casting, no trolling for me.

Tight lines, Jim
Thanks again for your share! The pictures are in the gallery at the bottom of the page.

The Bird
Jul 28, 2014
4-footer
Yesterday I was Musky fishing with my son Dan (pictured) & my friend Brian. Working a weedy area, I was flashing the All-Copper Papa Doc you made for me just under the surface. We'd fished less than an hour when this 4-footer charged the bait & hit at boatside! What a beauty.

This is the big fish so far this year for us, though my wife's 45-inch Tiger was gorgeous.

Anyhow, glad to report that the All-Copper Papa Doc works great, as expected. Thanks & Tight Lines, Jim
See the two pictures at the bottom of the page
Jun 11, 2014
Steves 40.5 Inch Pike
We completed our annual pike fishing trip to Canada at Lac Seul this past week. We actually fished May 29th to June 2nd. We had exceptionally good weather and equally good fishing. On the first day we boated 165 pike and caught 5 over 40 inches. In 4.5 days of fishing we caught 551 pike plus quite a few incidental walleye and smallmouth bass. All of our pike were caught on either Doctor Spoons or KB Spoons. The attached picture is of me holding a 40.5 inch pike that I caught on a pearl Doctor Spoon.

Thank you for producing the best pike spoons.
Apr 7, 2014
I sent you a photo of a 44.5" northern that my son Hunter caught last year at Lac Seul in Canada. He was awarded master angler. Hunter was 6 years old, I and never helped him at all. Hunter had a very fun battle with this hog. Hunter was using your silver Doctor Spoon. To date, that is by far his favorite lure. I have had this lure in my box for many years and have several of them. Thanks so much for making such a great lure. Also, it meant a lot to my wife and I on Sunday, how you treated Hunter. He talked about you the rest of the day, how he was going to be on your web page etc. You have no idea how special that was to him. Thanks so much for your kindness.
Great job Hunter! Look out all you Pros you have competition! Note: the picture is in the gallery below and the lure used was a PM285-101.