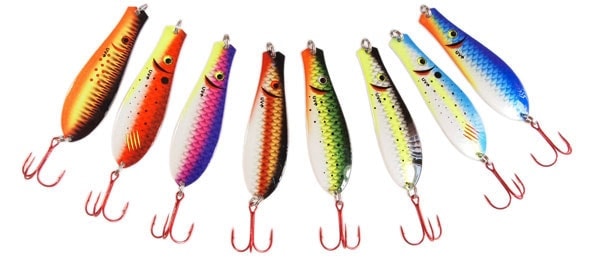 New "Ultra Violet" Doctor Spoons
Introducing the new Ultra Violet Doctor Spoons featuring the latest in
Imaging Technology and Innovative Ultra Violet finishes
.It's unique design allows these spoons to be fished at almost any speed with deadly results.This double action spoon allows you to attach the hook to the large end for a wide sweeping action and mid-depth running. Tie it to the narrow end for deep, low trolling and tight wobbling action.These spoons come equipped with heavy duty split-rings and Eagle Claw (razor sharp) 3/0 hooks.
Ultra Violet Doctor Spoons
are available in 8 spectacular colors and comes in two sizes: P275 (5/8 oz.) and P285 (1 3/16 oz.) to catch almost all species of fresh and salt water game fish.