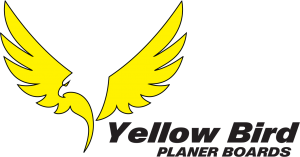 Celebrating over "45" Years as the Originator of the Planer Board!
Introducing Yellow Bird's "Totally Redesigned" Planer Boards!
Yellow Bird introduced the first side planer board to the fishing public 45 years ago…we felt it was time to bring our boards into the 21st century and become the leader in our field again!
The redesigned planer boards are now available in 4 sizes.
Mini 5" (model 50) Medium 8" (model 100) Large 10" (model 600) and Extra Large 12" (model 700)
Made from durable ABS plastic (recycled)
Enclosed Back (models 100/600/700)
Adjustable Sliding Weight (models 100/600/700)
New- (2) XL Pinch Pad release with pin (models 100/600/700)
2 Heavy duty springs & one wrench included
Adjustable wide pinch pad release (model 50)
Heavy duty soft foam cushion back pad (model 50)
Folding front tow arm release for easy storage (models100/600/700)
Tattle Flag System Included at No Extra Cost (models 100/600/700)
Lowest prices of any Major Brand planer boards
Yellow Bird planer boards allow you to cover areas you couldn't cover before. They allow you to maintain your line in prime fishing areas without spooking fish. The buoyancy of our boards allows you to carry lures and live bait up to 150 feet or more away from the side of the boat at variable depths. Our boards can handle most types of lures and jigs in various water conditions. They can be used to troll a variety of crank baits, spoons, spinners, etc. Yellow Bird planer boards continue to help fishermen find new ways to catch more fish. For over '45" years we've seen charter captains, guides, professional fishermen and everyday fishing enthusiasts use this product successfully…now it's your turn to catch more and bigger fish!