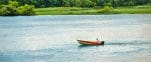 The Ultimate Fishing Spots to Catch Bass
Fishing has been a long standing sport and tradition. Are you one of the 60 million Americans who calls themselves a fisherman? If so, you know the thrill that is catching a bass.
Are you looking for the best bass fishing spots? Tired of spending all day on the water and coming up empty?
If so, you've come to the right place!
Here are 7 of the best spots for bass fishing. So get your fishing gear packed and get ready to catch some bass!
Top 5 fishing spots to catch bass
There are thousands of bodies of water in the U.S. However, some are more likely you land you that prized bass. Here are 5 must-try locations.
1. Lake Okeechobee
This lake is located in Florida and spans 730 miles. It stands as the largest freshwater lakes in the state.
Because the lake is only about 9 feet deep, it is the perfect spot for catching huge largemouth bass.
Like other lakes, Lake Okeechobee hosts various tournaments throughout the year. If you've watched the Bassmaster Elite, you've seen this lake!
For success at this spot, try using a variety of lures and bait, including:
spoons and spinner baits in flat grassy areas
crank baits and topwater plugs
flukes and plastic worms
golden shiners
2. Lake Champlain
This freshwater lake is located in New York. The lake is more than 100 miles long!
The southern end of the lake is said to be best for bass fishing. The water in this location is full of largemouth bass.
In fact, this area of the lake is so packed with bass that it is often home to tournaments.
Looking to put your fishing skills to the test? If so, this might be the lake for you!
3. Lake Erie
Lake Erie is located in New York but can be accessed from Pennsylvania and Ohio.
The lake is home to a high quantity of high-quality bass fish. At Lake Erie, catching 200 fish in one day isn't unheard of it!
This lake is one of the best smallmouth fishing spots in the U.S.
Ready to catch nice fish all day? Lake Erie is for you! A normal catch on the lake will land you a 3-4 pound fish.
4. Falcon Lake
We're heading down the map to Falcon Lake. The lake sits along the U.S.-Mexico border and is more than 83,000 acres.
At this lake, you can expect to find plenty of largemouth bass. You may also catch the occasional channel catfish.
To get the best out of Falcon Lake, fish during the spring, fall, and winter.
5. Dale Hollow Lake
This lake is record setting! In 1955, an 11 pound 15-ounce smallmouth was pulled from the water.
The lake is located in Tennessee and offers 28,000 acres of quality fishing. If you're looking for trophy smallmouth, this is a fishing spot you have to visit!
Quality fishing products for successful days on the water
A seasoned fisherman knows the importance of quality fishing products. At Yellow Bird Fishing products, we've got you covered.
Need new bait or weights? Looking for lures that'll land you an awesome bass? We offer all of the fishing supplies you need and more!
Contact us today to find the fishing products you need.
Yellow Bird Products
1803 Holian Drive
Spring Grove, IL 60081
815-469-9686