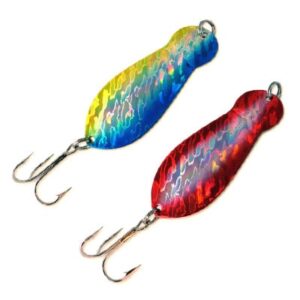 The new K-B's feature a brilliant and highly reflective 3D image with a jewelry-like nickel finish on the back.
In the sun, Holographic's penetrating shine draw predatory fish in from up to 50 yards away.
It changes the way predatory fish see, react and attack this spoon in low light conditions of early morning, evening, overcast skies and dirty water condition's.
Rediscover the simplicity and effectiveness of these amazing spoons with their distinctive wide wobbling action that drives big game fish wild from long distances.
It has the handcrafted quality of yesterday and the vibrant fish catching colors of today.
The K-B is widely known as "The Big Fish Spoon".
Deadly when you're hunting muskies, big northern, and huge lake-trout. The smaller K-B's are killer spoons for bass, walleye, trout and panfish. They're equally effective for casting or trolling.
Equipped with high strength stainless steel split rings and jaw grabbling Premium Eagle Claw® , laser sharp nickel hooks – 3x strong.
They are available in 4 sizes and in 10 spectacular jewelry-like finishes.
K-B Holographic Spoons … Truly the stuff of Legends.
Often imitated never duplicated.
Made in the USA