Yellow Bird Deep Diver Baits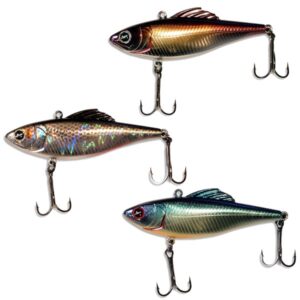 High Quality
realistically detailed lures
with remarkable designs in a variety of distinctive hand painted colors that fish find irresistible.
Tested and refined by Professional Anglers
These Precision crafted realistic lipless baits, by Yellow Bird Products, come in a variety of
distinctive hand painted colors
that fish just can't resist. The sinking trap broadcasts it's location to predators with a tight wobbling action and signature rattling sound that imitates the vibration of a school of bait fish. This free falling wonder has amazing action, 3D holographic eyes and lifelike detail. It's streamlined shape glides through the air like a bullet for long, accurate casts. These
deep diver lures
are a must for every anglers tackle box. Rip through shallow timber or work it slowly over deep-water ledges. These baits can be fished anywhere. They've been hand tuned and tank tested for premium performance.
These lures flat out catch fish.
All at a price that won't break the bank.
You can count on Yellow Bird for continued success.